Twinz (2014)
Mellow Mood – Twinz (2014)
Genere: Reggae - New Roots - Rub-a-dub
2014 La Tempesta International
"Twinz" is the third and latest album of Italian reggae band MELLOW MOOD, and will be released on iTunes and digital stores by independent label La Tempesta International.

MELLOW MOOD are back after having toured Europe for almost three years, in a tour which led the band to 12 European countries, where they performed at the most important festivals becoming one of the best renown reggae acts worldwide. "Twinz" confirms the soundness of MELLOW MOOD, who are led by talented twins and songwriters Jacob and L.O. Garzia, who wrote all the songs together and are supported by a band which proves to be increasingly aware of its role. Twelve songs written and arranged after a trip to Kingston, rediscovering reggae's roots and experiencing the true spirit of Jamaica's sounds.

"Twinz" explores the truest Roots through the rhythmic foundations of Jules I and Fred Sieve, classic One Drop vibes and rhythms, mingled with Dub atmospheres and Dj Style-like vocal harmonies, which prove that MELLOW MOOD have now the right attitude to add their own flavour to the reggae grooves, testifying the artistic growth of the five musicians. Lyrics, which showcase MELLOW MOOD's deep knowledge of Jamaican patois, explore universal love, crucial human solidarity, bridging peoples through music, witness their strong bond with Jamaica.

"Twinz" is produced by Paolo Baldini, who adds his expertise to the sound of the band, and features several important collaborations: the energy of Portuguese superstar Richie Campbell, the latin charge of Spanish dub singer Sr. Wilson, the brass section of Jamaican legend Dean Fraser, arrangements of Alborosie's drummer Fitzroy 'Dave Prime Time' Green on "Closed Doors", the voices of Italian singers KG Man and Forelock.

With "Twinz", MELLOW MOOD prove to be at the forefront of the reggae scene worldwide, and definitely have what it takes to go further.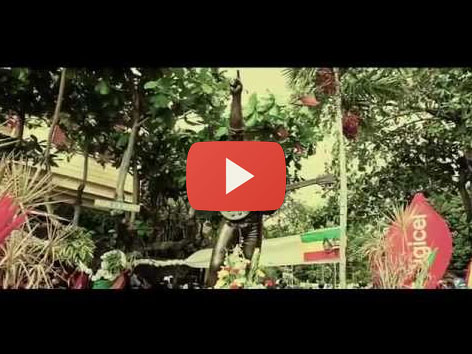 Dopo tre anni di tour in giro per il mondo, i Mellow Mood approdano al loro terzo album, Twinz, registrato dopo un viaggio in Giamaica, in cui i friulani continuano a sperimentare nuove strade musicali, utilizzando ancora una volta  il "patois", lingua con la quale sembrano essere sempre più a loro agio. Nell'album non mancano episodi one drop, come nella bella Closed Doors o in Inna Jamaica, song in compagnia della superstar portoghese Richie Campbell, entrambi brani molto efficaci per gli amanti della classica musica in levare. Twinz, Il brano che da il titolo all' album, è un pezzo molto originale caratterizzato dal cantato in dj style dei Mellow Mood  e da una ritmica non propriamente reggae. Un brano che avevamo già ascoltato e apprezzato è Dig Dig Dig, uscito l'anno scorso come singolo e accompagnato da un divertente videoclip. L'album è impreziosito dalla partecipazione ai fiati di Dean Fraser, sassofonista giamaicano che non ha bisogno di presentazioni, e da Fitzroy Dave Greene, l'eclettico batterista della band di Alborosie. Tun It Up è un'altra tune in maggiore, un altro sicuro successo inna raggamuffin style. La successiva Don't Leave I Lonely, sorretta da percussioni e organi, parte molto dolcemente per poi esplodere con riusciti stone love e ritornare una delicata ballata. Tra le altre collaborazioni dell'album troviamo la combo con il grossetano Kg Man su One Note,  il sardo Forelock su Be Around e lo spagnolo Sr Wilson su One Drop Music, tutti artisti che come i Mellow Mood si esprimono in patois. I suoni di Twinz sono molto ricercati. Nei brani non mancano echi dub, basi più votate all'hiphop e riferimenti alla black music. La produzione dell'album è stata affidata ancora una volta a Paolo Baldini, che i Mellow Mood hanno più volte indicato come il sesto elemento della band, per l'impronta che sa dare ad ogni loro uscita discografica. Twinz, con il suo sound fresco e originale, si avvia a diventare uno dei migliori album Reggae di questo 2014.
Tracks
01. Intro
02. Twinz
03. Closed Doors
04. Dig Dig Dig
05. Inna Jamaica feat. Richie Campbell
06. Tun It Up
07. Don't Leave I Lonely
08. Memba December
09. One Note feat. KG Man
10. Be Around feat. Forelock
11. You Don't Know
12. One Drop Music feat. Sr. Wilson
13. Oh Mama