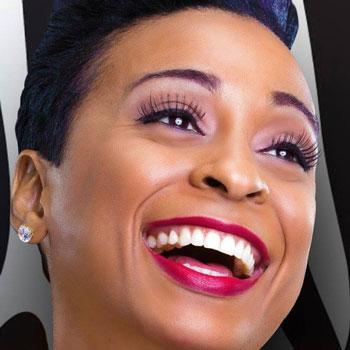 Alaine
Alaine Laughton, known by her first name, is a singer and songwriter. She was born in New Jersey, but moved to Jamaica at the age of three.

In 1988, Alaine appeared in movie Clara's Heart along side Whoopi Goldberg. Through the late 1990's and early 2000's, Alaine has lived in the United States and has been songwriting and singing back up for Rocafella artists such as Cam'ron and Freeway.

She moved back to Jamaica in the summer of 2004 to focus on her own music after working as an investment banker for JP Morgan and Chase. Alaine later met with Craig "DASECA" Marsh, and started working with him. Their immediate chemistry provided Alaine with her first song on the radio within days of her arrival back to Jamaica.

In 2005, the single "No Ordinary Love" on Don Corleon's Seasons Riddim was a breakthrough single in the Reggae scene, and Alaine was quickly praised for her special talents. The single topped the charts in Jamaica and also charts in the UK. The music video topped the charts on MTV Tempo's Cross Caribbean Countdown for several weeks and became the first video by a female reggae artist to be retired from the countdown on one of Jamaica's biggest video request shows, E-Strip.

Alaine has continued voicing tunes for the last few years for the likes of Don Corleone, dropping nice cuts such as "Heavenly" on the Heavenly Riddim and Sacrifice, her latest single. A music video for the single, directed by top Jamaican director Ras Kassa was recently released. Her other singles "Deeper", "Chaka Chaka Love", "Heavenly", "Wine" and "Love Sound", a duet with Beres Hammond have all done well. "Dreaming of You" (featuring Beenie Man), "Rise In Love" , "I Love You" (featuring Busy Signal) and Sacrifice, among others, are in current rotation across the world.


Alaine has performed at the Reggae Sumfest in Montego Bay, Jamaica in 2005 and 2006 to positive reviews. She has also performed in St. Vincent, Tortola, St. Maarten, Cayman, Nevis, St. Croix , St. Thomas (USVI), St. Lucia and the United States. She has been spreading the word about HIV and safe sex to high schools throughout Jamaica, and will be showcased as one of twenty artist in the movie "Made in Jamaica" which is being directed by Jerome Lapperrouzas.

Her album titled Sacrifice was released in 2008.

It came as a shock to many when they found out that she was the woman behind Samantha J's 2013 hit Tight Up Skirt, and songstress Alaine Laughton has a lot more in store for 2014.

In a recent interview with The STAR, Alaine revealed that she hopes her recent work will garner even more respect for her as a serious songwriter.

"I have so much to look forward to this year and I hope people will take me more seriously; behind the smile and the laughter is a woman that's really in love with music and wants to be seen as a serious musician."

Alaine considers herself to be multidimensional and says Jamaicans will get to see the many sides to her music in her upcoming album. "My album is coming out in June, and I'm really excited about that because persons will get to see different sides of me. There is something on it for everyone; something inspirational to keep you motivated and of course there are love songs."

Alaine's new single, "Better Than This" has been receiving heavy rotation on local radio stations, something the singer says she is grateful for. "I've been getting calls from radio stations requesting it, people have been showing me a lot of love and I'm all about love that is all I bring" she said.

Alaine says she looks forward to taking her fans on a musical journey with her new album "Ten of Hearts" and is really happy with its development.

She is also an actress who had her breakthrough with her role in Patrick Brown's Glass Slippaz last year. Alaine had a starring role as Cenderelisha and the play received three Actor Boy Awards.

The songstress told The STAR that she recently did a pilot for Jambiz International for a soap opera they will be coming out with soon, but says music is her main focus right now.

"Going on tour for acting and going on tour for music are two different experiences and I enjoyed working with Patrick Brown, Glen Campbell and the entire team, but right now I'm focused on getting this album out there. It's going to be amazing."

Her voice coupled with her song writing skills perfectly combine to create and unforgettable sound that is all her own.
https://www.facebook.com/alaine.laughton