Raging Fyah & Kabaka Pyramid's "Dance With You" is an exclusive song featured on the re-release of their 2nd studio album, "Destiny". Released in 2015. Raging Fyah is one of the most talented and dynamic groups ever to hit the Jamaican music scene. Divinely united in 2006, five stunning musicians- Anthony Watson, Kumar Bent, Courtland White, Demar Gayle and Delroy Hamilton – set out to rekindle a flame of positivity in the music industry.

Though their versatility enables them to play all genres of music, most of their songs - influenced by passion, purpose and life experiences- assume a roots rock reggae flavour.

They write their own songs and ensure that every word touches the soul of the listener, uplifting and motivating people from all socio-economic and cultural backgrounds. The resulting melodies have been commonly likened legendary artistes such as Bob Marley, Peter Tosh and Third World. The band also has its own recording label, Raging Fyah Productions, which produced their debut single "Peace Reigns", followed by "Fight" as well as other work in the pipelines for several popular reggae and dancehall artistes.
The Band is committed to changing the world, note by note, melody by melody- spreading light in areas of darkness, growing when conditions seem most bleak, demolishing obstacles without remorse; the band just keeps blazing... like a raging fyah!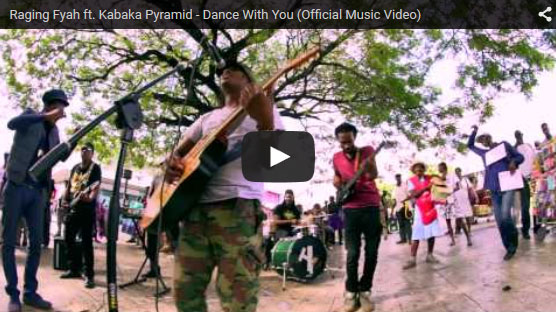 Raging Fyah ft. Kabaka Pyramid - Dance With You (Official Music Video)